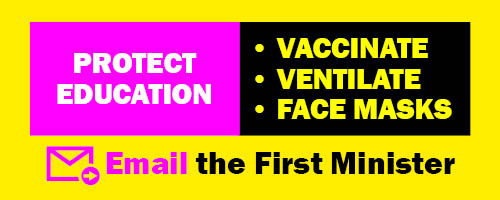 The EIS is launching a mass member lobbying campaign aimed at elected political representatives at all levels: Ministers, MSPs. MPs and Councillors.
Now that schools are implementing a phased return of pupils, the EIS is pursuing all protective measures to keep school staff and pupils safe. Over the next 2 weeks the EIS will promote a series of social media messages to inform members of our policy position.
We are asking all members to message to the First Minister asking for education staff to be included in phase 2 of the vaccine roll out.
Our aim is to generate support for making schools safer places by prioritising school staff for Covid vaccination as part of the second phase of the programme roll-out; improving ventilation within school buildings as a key mitigation; and providing medical grade face coverings to guard against aerosol transmission.
If you agree with this, please write to the First Minister.